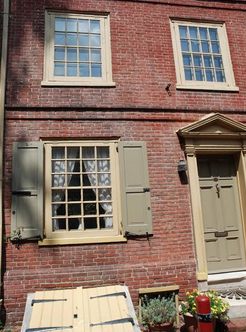 To say that Old City, Philadelphia, is rich with history would be a drastic understatement. This 22-block area is in all likelihood the most historic neighborhood in the entire country, rife with ancient buildings and artifacts predating the birth of our nation. In 2015, Old City has become a unique combination of the traditional and the modern, as trendy restaurants, clothing boutiques, nightclubs, and loft apartment buildings overlook the cobblestone streets. For rental property owners and property managers in Old City, it's important to stay versatile in appealing to both the hip crowd of young urban professionals as well as the old guard of longtime natives and transplanted retirees.
A Well-Rounded Approach to Old City Property Management
In recent years, Philadelphia has steadily become one of the most desirable and livable big cities in the US. This has resulted in an influx of both recent college graduates/young professionals and also retiring baby boomers. The young people see Philly as a vibrant cultural haven where they can find increased opportunities for career growth. The baby boomers are eager to escape from the monotony of the suburbs to the excitement of a major metropolitan area. An effective property management firm in Old City will be cognizant of the differences between these two demographics, through a few different business practices:
Appropriate Use of Technology – Like just about every industry today, the property management business has enjoyed increased efficiency as a result of major technological leaps over the past couple of decades. Our tenants have the convenient option of online payments for rent and utilities, but can also pay via the traditional method of physical checks if so desired
Diverse Marketing Techniques – If you're looking to fill a vacancy, it's important to cast a wide net. Appealing to a wide range of demographics will help you find reliable tenants much more quickly. Generally, various forms of online marketing will be more effective for attracting younger tenants, while more traditional forms such as newspaper ads may get more attention from older ones.
Match Features to Demographics – It's important to stay aware of how different home features appeal to different age groups. Generally, large homes with 3 or more bedrooms are more sought after by young families and students in search of communal housing, while 1- or 2-bedroom units will appeal to older retired couples. Similarly, swanky loft spaces and high-rise apartments generally attract a younger crowd, while empty nesters may prefer the simple elegance of an old rowhome.
For Old City property managers, the key factor in effective tenant placement is versatility. Combining an awareness for tenant preferences with savvy marketing techniques will ensure that you fill your units with a variety of tenants. If you'd like to discuss the prospect of hiring our property management team to help you expand your real estate business, feel free to contact us via the information below:
Phone:
(844) 467-6700
Email:
[email protected]